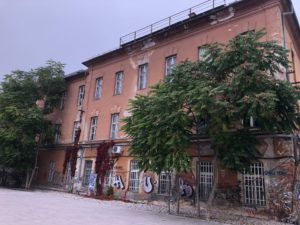 Non-governmental organizations in Slovenia are increasingly targeted by the radical right Slovenian Democratic Party government's restrictive measures. 18 NGOs (among them associations for film, literature, dance, fine art, the MASKA Institute and the Legal Informaton Centre for NGos) were requested by the Ministry of Culture to vacate their premises in the building at No. 6 Metelkova Street in Ljubljana, a place with a hertitage of civil society movements. In 1993 cultural workers, artists and activists occupied the former command headquarters of the Yugoslav National Army barracks in Slovenia and made it a home to non-governmental organizations, collectives and individuals engaged in independent cultural and artistic production and research.
On October 20 the NGOs stated: "The reason given is that the Ministry supposedly needs the premises for its own use and intends to renovate them, although the budget is not slated to provide funds for such renovation until 2023, and the Ministry has not offered tenants replacement premises, nor has it entered into any sort of dialogue with us. The termination of the leases came to our addresses unannounced and on the very day when the SARS-CoV-2 virus epidemic and curfew were declared." 
"We hereby inform the Ministry of Culture and the government of the Republic of Slovenia that we have no intention of leaving No. 6 Metelkova and that we will resist with all possible means these attacks on civil society, independent culture, and democracy."
ACAR calls to sign the petition of the Slovenian Culture NGOs.