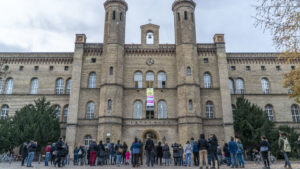 "Because Europe means unifying people, not integrating states…The European Council is hereby decommissioned. The European Parliament now has the power to make law.
Long live the European Republic!" On 10 November at 4 pm from over 150 balconies at public places and theatres all over Europe the manifesto for the proclamation of the European Republic was declared.
ITI Germany was co-organizer of the event at art center Kunstquartier Bethanien in Berlin-Kreuzberg. See all initiatives and comments at the project's website.