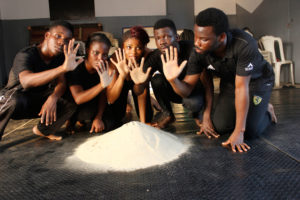 The international festival for children and youth theatre "Starke Stücke" in Germany had invited the theatre group KiNiNso Koncepts from Lagos (Nigeria) with their play "Sandscapes". The play was co-produced with the Goethe Institute Lagos, the German cultural institute which itself is founded by the German Ministry for Foreign Affairs.
The visa applications from 6 members of the group – Tolu Aina, Joy Akrah, Jubril Gbadamosi, Anifiok Inyang, Michael Ajimati, Abisoye Kadiku – were rejected by the German embassy on January 20th. To provide evidence of their family and economic rootings in Nigeria the artists delivered more than 10 different documents, among them bank statements of the company, Letter of reference, guarantee and assurance from a lawyer, invitation letters to the ASSITEJ world congress as well as from the British Council. Regardless of all appeals, no visa were permitted. "I wonder whether such cases are still bureaucracy or already lived everyday racism" commented Stefan Fischer-Fels, artistic director of Junges Schauspielhaus Düsseldorf and vice president of ASSITEJ international at his festival opening speech. "It is unacceptable that we build walls that even the artists can not overcome."
"What thoughts and feelings did this visa incident invoke in you and your colleagues?" answers from Joshua Alabi,  Artistic & Creative Director KiNiNso-koncepts Productions, Lagos to German journalist Elena Philipp.
Source: KJTZ – Centre for children and youth theatre in Germany, Starke Stücke festival