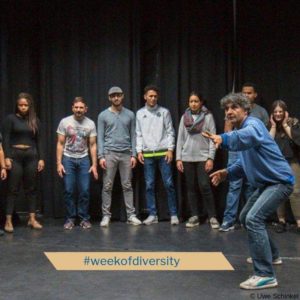 The director and artistic manager of the Hamburg theatre MUT!, Mahmut Canbay, was arrested on his arrival in Turkey for suspected terror. The Yeni Kapi Tiyatrosu in Izmir invited Canbay with a group of young actors from MUT! theatre for two workshops. Canbay had been interrogated for eight hours and received unlimited ban from entering Turkey on Thursday evening. He was denied a lawyer. All emails, contacts and chats on his smartphone were checked. Among other things, he was questioned about a satiric cartoon of Turkish President Recep Tayyip Erdogan that an acquaintance had sent him by Whatsapp. He was asked why he had not deleted them.  With the accusation of terror propaganda, he was finally put back on an airplane to Germany late in the evening of August 8th. The young actors were picked up by theatre members at the airport and could continue the travel to Izmir. They will return on August 15th.
MUT! was founded by Mahmut Canbay and has existed since 2005. It plays multicultural projects and receives public funding from the city of Hamburg.
Several Germans with a Turkish or Kurdish background have been refused entry into Turkey or were arrested. Seven German citizens are currently being detained in Turkey for political reasons. Meanwhile, the German Foreign Office has warned against publishing criticism of the Turkish government in social media.
Sources: SPIEGEL online, dpa international