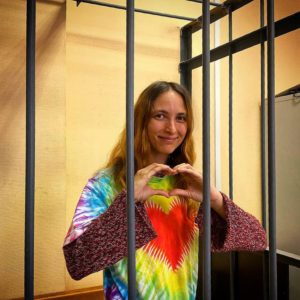 Alexandra (Shasha) Skochilenko, is a russian artist and musician.
She replaced price tags at supermarkets in St Petersburg with news reports about bombings in the besieged Ukrainian port city of Mariupol. On April 11 she had been detained and accused of carrying out serious actions against public safety and spreading fake news about the Russian military. Her case had been reclassified from a  criminal case to a more severe one of the same article, entailing from 5 to 10 years in prison. The investigation has extended Sasha's pre-trial detention several times, now until July 1st.
The telegram group for support is: https://t.me/skochilenko_sud.  
Sources: severreal.org, telegra.ph, Human Rights online , The Art Newspaper