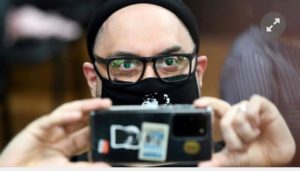 The case of the "Platform" Projekt at the Gogol Center's "Seventh Studio" Kirill Serebrennikov has been going on for more than three years (see also our former posts at ACAR). On June 22 the judicial investigation has ended. The state prosecution considered proven guilty persons involved in the  case of Serebrennikov, asks to plead Kirill Serebrennikov, Alexey Malobrodsky, Yury Itin and Sophia Apfelbaum and sentence them with following punishments: 6 years of imprisonment in a penal colony with a fine of 800 thousand rubles for Serebrennikov , 5 years for Malobrodsky and 4 years for Itin and Apfelbaum as well.
At the same time the prosecution corrects the amount of damage from 133 million 237 thousand rubles to 128 million 974 thousand rubles.
The court will pass a verdict in the coming days.
The Gogol Center has published Kirill Serebrennikov's speech at the Meshchansky court on June 22nd: Platform Lessons 
Sources: Russsian Legal Information Agency (RAPSI), Russia Today (RT), Gogol Center's Facebook page